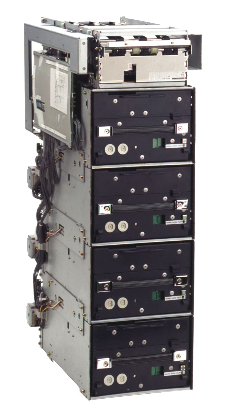 Now There's Fujitsu. With over 30 years of experience in designing and building media dispensing devices of legendary quality, Fujitsu is now making its dispensing devices available to its OEM sales channel. The Fujitsu Model F400 media dispenser is a lot of product in a small package. Aimed at helping you minimize your product costs and your customers' cost of ownership, the F400 is fast and reliable, large in capacity, and feature-rich in local and remote diagnostics. It's also expandable – start with one cassette and expand up to five.
Advanced Features and Flexibility. Security risks are reduced with the support of a dual-lock cassette with tamper indication. The integrated reject area into the main cassette removes the need for a separate reject bin. The media cassette in interchangeable with the Fujitsu Model F100 single cassette media dispensing unit. In addition, the cassette is adjustable for support of international currencies and other valued media up to .3 mm in thickness. The cassettes are configured for up to 14 uniquely identifiable media, and the unit is available with up to four large capacity cassettes, requiring less frequent replenishment. Integration of the Fujitsu 400 is simplified with easily accessible mounting brackets and standard RS232C communications interface. Best of all, the F400's overall flexibility and wide range of features will help you support a variety of applications. UL certification of your fully integrated product is made easier because the F400 is already a UL recognized component.
Flexible, Easy integration. The Fujitsu slimline F400 offers OEMs a key element in achieving the compact ergonomic zone required most applications.
Reliable and Affordable. A solid design, advanced diagnostics, and superior picking mechanism all result in more uptime and lower maintenance costs for you. Speed, Reliability, Low maintenance. Here's your opportunity to get the industry's most advanced media dispenser at an entry level price and ensure that your products offer the features and value you need to stay competitive.
Cost-efficient, Powerful Multi Cassette Media/Currency Dispenser
Advanced Security Features
Predictive Failure Analysis
Configurable 1-5 Cassettes
Strong, Reliable and Affordable
7-notes per second
Easy Maintenance and Problem Resolution
On board and remote diagnostic tools for quickly diagnosing and resolving issues
Target applications include mid-range ATMs, bill breakers, bill payments kiosk, teller assist units, gaming / casino, media dispenser, etc.