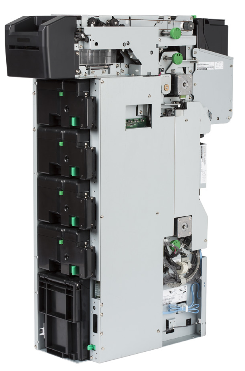 The G60 recycling unit by Fujitsu is a real gamechanger for the OEM sales channel.
For the first time there is true reliability in a smaller recycling unit. Built to Fujitsu's exacting standards, the G60 does not compromise features or capabilities for a smaller footprint.
The G60s lower price point now makes currency recycling a viable option in a greater number of applications. With 4 recycle cassettes, 1 deposit box and 1 optional loading cassette, the G60 has the highest currency capacity in the industry. With greater capacities, the G60 may be the ideal OEM solution for teller assist, ATMs, self-checkout, bill payment or retail cash management environments.
With Fujitsu's best-in-class bill validator, mixed denominations can be deposited in a bundle of up to 20 notes with the complete image of each note captured (front and back), and used to support provisional credit on "questionable" items. In addition, the bill validator verifies the note's denomination, checks for counterfeit, can be separated by degree of fitness and store in a secured cassette where it can then be dispensed to another customer.
As a value added feature, the G60 can support mixed new and used currency and mixed paper and polymer notes.
The G60 can be installed for front or rear access and provides easy access to the pooling area and the entire length of the transport system to clear jammed notes or foreign objects.
The G60 protects your investment by using many of the same Fujitsu components found in other applications. For example, the F53 casette from a self-checkout application can be loaded into the G60 to count, sort and replenish funds for a secondary application like bill payment.
To make the G60 as user-friendly and secure as possible there are optional LED displays to prompt and guide customers through a transaction. In addition, there are optional locks for all cassettes and an optional locking bar that can secure all of the recycle cassettes in place.
If you are unsure if the G60 is the right investment for your customer, Fujitsu has developed the Asset Planning Tool™ (APT). An Excel®-based tool, APT will enable you to enter your customers currency handling data, and calculate replenishment benchmarks vs. usage patterns.
Enhanced Functional Features
Reliable currency recycling at a lower price, broadening the array of potential applications while ensuring a more rapid ROI
Quickly and accurately verifies currency denominations, detects and separates counterfeit and unfit currency with the best-in-class bill validator.
Greater capacity, 5 cassettes, (4 recycling cassettes and 1 deposit cassette) and an optional 6th cassette for beginning of day replenishment, added capacity or additional denominations when necessary
Higher performance with the fastest deposit and dispense transactions in the industry
Supports major world currencies including mixed and used notes, paper and polymer notes
CEN XFS service provider is available to enable easy development of application software
Benefits
Lower cost of ownership by more efficiently managing currency requirements and cash-in-transit costs
Increased up time with the flexibility of adding a loading cassette for increased capacities, start of day replenishment or additional denominations
Supports provisional credit on questionable items by capturing the entire image of the note with the bill validator, providing greater flexibility to OEM providers.
Manages the quality of notes by accepting and separating unfit currency, while dispensing only fit currency to end customers.
OEMs can demonstrate ROI to customers with Asset Planning Tool™, which enables customers to enter their unique currency handling data and calculate replenishment benchmarks vs. usage.