ConveniCash Payment Station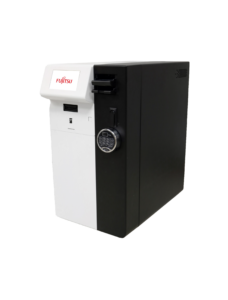 The amount of effort necessary to get payment and currency handling solutions to market can be daunting for some integrators and ISVs.
Bending metal and mechanical engineering is not their specialty. It is costly, it takes time and diverts precious resources away from what they do best: software applications and services.

Now, with the introduction of ConveniCash from Fujitsu, integrators and ISVs don't have to worry about designing enclosures any more. Fujitsu has over 40 years of hardware engineering, component integration and ergonomic design experience to draw on resulting in extremely efficient man-machine interfaces for devices like ATMs, POS and train and subway payment systems around the world.

Fujitsu has raised the bar by moving their business partners further up the value chain with ConveniCash. At its core, it includes the most flexible and reliable small-format bill recycling unit in the market today, the Fujitsu GSR50.

In the ConveniCash enclosure, the GSR50 can be ordered in up to nine (9) different configurations depending on your cash in and cash out
requirements and can be upgraded in the field when your requirements change over time.

In addition to the GSR50, ConveniCash includes standard features like an attractive two-tone steeled cabinet in neutral colors, business hours enclosure and a programmable electronic lock.

Along with the standard features, ConveniCash can be ordered with options like an embedded CPU for intelligence, a 7" touchscreen LCD display for store associate or customer interaction and an integrated thermal printer for receipts or paper audit trail.

To speed your solution to market and reduce development costs, Fujitsu offers the Software Control Libraries suite of SDK middleware to support more rapid integration of your application software.

To protect your investment, all currency handling components including the ConveniCash cabinet, business hours enclosure, CPU, touchscreen and printer are all life-cycle managed by Fujitsu's legendary commitment to support and reliability.