Self-service checkout is now a consumer expectation in most retail environments.
Introducing the Fujitsu Impulse™, our smallest self-checkout to date, takes the pressure off attendants by picking up the slack when queues are growing. What separates this automated assistant apart from the rest is that this is the first self-checkout system designed with several verticals in mind. The Fujitsu Impulse™ can be utilized in the grocery store, the hardware/utility store, and for the first time, the convenience store. The Fujitsu Impulse™ is easy to use, easy to manage, designed to maximize merchandising, increase advertisement space, and promote your brand presence in your retail environment.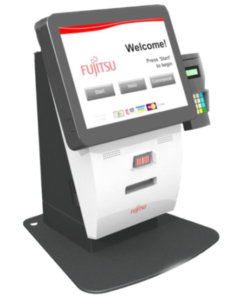 Description
The small size of the Fujitsu Impulse unit allows it to fit easily into a compact front end, leaving as much room as possible for merchandise. But where it's small on size, it's big on presence. Wrapping options provide advertising for your vendors or your own brand and a suite of features turns the screen into a digital signage platform. The Fujitsu Impulse self-service is fully geared to drive up sales. Every customer will get the personal touch they deserve, since our mobile management solutions allow your staff to assist customers when they need help, even when staffing is low. Most importantly, you'll always know how the units are doing with a full suite of built-in reports, enhanced by the rich unit health reports from the Fujitsu Integro lifecycle management tool.
Solution
Features
Mounting Options
Service
Specifications